Wa-hoo!!! Today marks Maher's 18th Anniversary!!!  The theme for the year is "Clean Self. Clean Maher. Clean Village.  Clean India."  
Sr. Lucy and all the dear people who founded Maher embody the spirit of Dr. Martin Luther King's quote, "Faith is taking the first step even when you don't see the whole staircase."
Eighteen years ago, they could not have known that Maher would grow to:
34 homes in 3 Indian states,
provide care & shelter 1,100 children, women & men on any given day,
make it possible for so many children to be the first in their families to attend and complete primary and secondary school,
support 530 self-help groups of 10 to 20 members in surrounding villages,
inspire people around the world with their commitment to love, interspiritual harmony, & justice.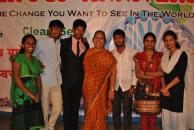 According to the World Bank, 33% of the world's economic poverty is in India.  India has more economic poverty than any other country.  Maher is a shining example of Margaret Mead's famous quotation, "Never doubt that a small group of thoughtful, committed citizens can change the world; indeed, it's the only thing that ever has."
On this special day and throughout the month, please pray for and/or send positive thoughts and intentions to Maher.  www.maherashram.org  I also ask that you consider a financial gift to affirm Maher's bold work in our world.  No gift is too small.  The cost of a flavored coffee drink in the U.S. provides food and shelter for a woman or child for more than two days.  Tax- deductible donations can be made online at:  www.the howleyfoundation.org or by check to The Howley Foundation, 36 Kinsington St., South Burlington, VT, USA 05403.  Sr. Lucy, in concert with the Board, directs the use of all funds based on Maher's needs.
May your February be filled with peace and beauty.
Love & gratitude,
Sherry