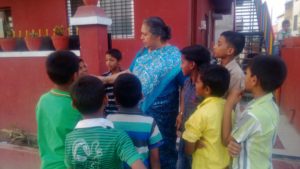 In a few short weeks, I will visit Maher in India with 12 women from the United States. We will be there to celebrate Maher's 20 ground-breaking years of service with women, children, men and villages in need.
It will be my fourth trip to India and my third trip to Maher, an interspiritual, caste-free organization founded and directed by Sr. Lucy Kurien, a Catholic nun. Maher's Board Chair is Hirabegum Mulla, a Muslim woman.  This spiritual pilgrimage, organized by Lynda King, grew out of an hour-long presentation Sr. Lucy delivered to a Chicago gathering.
My daughter and I first visited Maher in 2010 after meeting Sr. Lucy and reading Women Healing Women:  A Model of Hope for Oppressed Women Everywhere by Will Keepin, PhD, and Cynthia Brix, M.Div.  We were scheduled to stay one month at Maher, but we stayed for seven — nourished and refreshed by the pervasive love and strength of Maher's community.
Although we won't have time to visit all of Maher's 41 homes in three Indian states during our upcoming trip, our group will:
spend time with members of the Maher community
visit self-help groups and projects in slums, villages and beggar's colonies
learn from Sr. Lucy, Hira and Maher's staff of social workers, housemothers, cooks and drivers
meet Maher friends from around the world.
Sr. Lucy founded Maher in 1997 in response to the tragic death of a woman and the seven-month old fetus she was carrying after her husband doused her with kerosene and set her on fire.
In Maher's early days, Sr. Lucy had no idea that 19 years later two Maher youth would spend six months in the U.S. leading peace camps and bringing hope and wisdom to people of all ages on the east and west coasts.  Both of the young men hold MBA degrees.  One came to Maher at age six after a social worker observed him washing cars in a garage.  It was one of two jobs he held to help support his family.  The other young man was born a Dalit, or untouchable, and lived for several years on the streets with his mother following his father's disappearance before coming to Maher.  These are just two of the more than 1,100 women, children and men in Maher's care daily.
I don't yet know how this spiritual journey will transform me or the members of our group, many of whom will be visiting India for the first time.  I only know that people can't help but be moved by spending time at Maher and in the company of the two brave women leading this revolutionary movement of love in our world.  And, that gives me great hope for our collective future.