DETERMINED TO TRANSFORM A MILLION LIVES
Brad Jeffery and the servant leaders at CAUSEGEAR founded a company with an ambitious goal.  Transform the lives of 1,000,000 people trapped in unfathomable poverty and injustice to become self-sustaining.
Deeply disturbed by the fact that 2.8 billion (38%) of the planet's 7.3 billion people live in extreme poverty, Brad began CAUSEGEAR, one of 1,279 low-profit corporations (L3C) in the U.S. according to estimates by interSector Partners.
He explains that many of the clothes we wear are often made by workers putting in 12 hours days for $2.  Wages so low that workers can't pay for essential food, housing, water, medical, or education — making it more likely that they will believe the lie of a better life from a stranger only to be kidnapped and sold as slaves.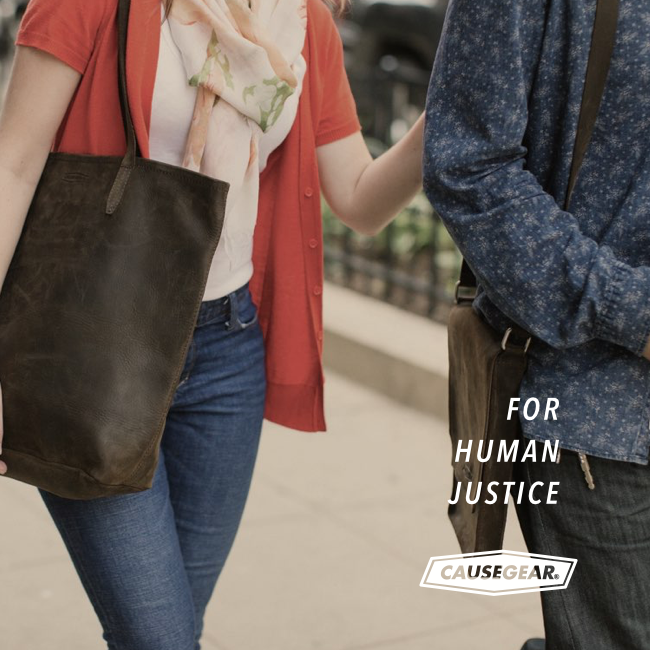 PAYING 5X THE NORM
CAUSEGEAR'S urban packs, sport bags, totes, luggage tags and other types of gear are designed in Chicago and crafted in India by workers receiving 5x the norm.  Enough to pay for essentials and to support three other people.
CAUSEGEAR chose India as the site for its crafters because its home to a large number of fashion industry workers.  It's also home to, according to The Global Slavery Index, 35.8 million(or 40%) of the world's slaves.
CAUSEGEAR HAS DONE THE MATH
According to CAUSEGEAR, if just 25% of U.S. consumers spent $65 annually on their justice products, 1,000,000 lives — 250,000 crafters + 3 people — would be transformed.  Reaching a goal this lofty is going to take lots of people telling the CAUSEGEAR story.
Visit CAUSEGEAR'S website and you'll see that there are a number of creative ways you can help CAUSEGEAR grow.
Host a CAUSEART event and give people a chance to transform a bag into wearable art,
Launch a CAUSEGEAR fundraiser in which 25% of the sale proceeds go to a designated cause,
Order CAUSEGEAR products for a company gathering,
or simply shop CAUSEGEAR this holiday season.
Learn more about CAUSEGEAR at http://www.causegear.com. Email your favorite product to me at sherry@newviewnow(.)com and you'll be entered in a drawing for a natural canvas tote like the one above that we recently used for a CAUSEART gathering.